Carrot Raisin Muffins
makes 12
1 1/3 cups flour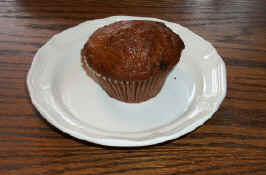 1 tsp. baking soda
1 tsp. Ground Cinnamon
1/2 tsp. Ground Nutmeg
1/4 tsp. salt
3 egg whites
3/4 cup brown sugar
1/2 cup Canola Oil
1 Tbs. honey
1 1/2 cups grated peeled carrots
1/2 cup dark seedless raisins

Preheat oven to 350 degrees.

In a small bowl, mix together flour, baking soda, cinnamon, nutmeg, and salt. Set aside.

In a medium bowl, combine egg whites, sugar, oil, and honey. Beat for 3 minutes at medium speed with an electric mixer or until smooth.

Stir in grated carrots, raisins, and dry ingredients, beating until well mixed.

Spoon batter into greased muffin cups, 2 1/2 inches in diameter, lined with paper baking cups, filling each two-thirds full. Bake for 18 to 22 minutes at 350 degrees F or until a metal tester inserted in the center of the muffins comes out clean..
Featured Recipes:
Chocolate - the food of the Gods
Step-by-step cake decorating
Featured Magazine:
Dessert Professional