Big Maple Palmiers

2 cups flour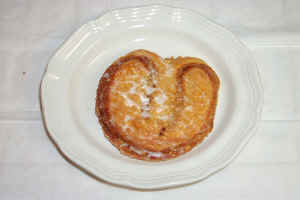 1 1/2 Tbs. sugar
1/2 tsp. salt
1/2 cup butter
1 (.25 ounce) package active dry yeast
1/4 cup warm water
1/2 cup milk, scalded and cooled
1 egg yolk
2 Tbs. butter, softened
4 Tbs. melted butter

Maple Glaze
1 1/4 cups powdered sugar
1 tsp. pure vanilla extract
1/4 - 1/3 cup pure maple syrup
1/4 cup chopped walnuts

Mix flour, salt, and 1 1/2 Tbs. sugar in a large bowl. Cut butter into the mix.

Soften yeast in water. Combine milk, egg yolk and softened yeast. Add to flour mixture and mix well.

Cover dough and refrigerate for at least 2 hours.

Place dough on a lightly floured cutting board and knead lightly. Cover with a cloth and allow to rest for 10 minutes.

Roll dough into a rectangle, about 10x18 inches, and brush with soft butter. Roll like a jelly roll, sealing the edge. The roll should be 18 inches long.

Cut dough into 1-inch slices.

Bake immediately in a preheated 400 degree oven about 12 minutes. Cool on wire racks.

Maple Glaze:
In a bowl, combine powdered sugar, walnuts and vanilla. Gradually whisk in enough maple syrup to make a smooth, thick glaze.

When the palmiers are completely cool, set them, fluted-side up, in a wire rack over wax paper. Spoon some glaze over each palmier, letting it drip down the sides.