Walnut Raisin Bread
12 slices

3/4 cup raisins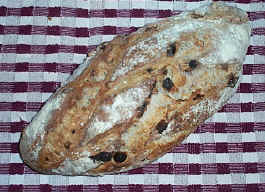 1 package (1/4 ounce) active dry yeast
2 cups lukewarm water (105° to 115°)
2 Tbs. honey
2 3/4 cups whole wheat flour
1 1/2 - 2 cups flour
2 tsp. salt
1 cup walnut halves, coarsely chopped

In a large mixing bowl, stir together honey and 1/2 cup of the lukewarm water. Add yeast and stir to dissolve. Let stand until foamy, about 5 minutes. Stir in remaining 1 1/2 cups lukewarm water.

Add whole wheat flour, 1 1/2 cups of white flour and salt. Stir until well combined. Add enough of remaining white flour until dough leaves sides of bowl.

Sprinkle flour on a flat dry surface. Turn dough onto the surface and knead 5 to 10 minutes, adding more flour if necessary, until dough is smooth and elastic. Don't make the dough too dry.

Lightly oil a large mixing bowl. Place dough in bowl and turn to coat. Cover with damp cloth and set aside in warm place to rise until doubled in bulk, about 1 1/2 hours. Place a piece of parchment paper on a large baking sheet.

Punch dough down and turn on to floured surface. Knead raisins and walnuts into dough. Shape (round, long, square,) into 1 large loaf and place on prepared baking sheet. Cover with damp cloth and let rise until almost doubled, about 30 minutes.

Preheat oven to 425°F. Using a spray bottle spray loaf with water. With a knife, slash top of loaf. Sprinkle with flour. Bake 15 minutes. Reduce oven temperature to 375°F and bake 30 minutes or until nicely browned. Cool on rack before slicing.