BBQ Mini Meatballs
45 meatballs
1 lb. hamburger meat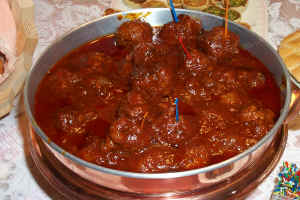 1 egg
1/2 cup soft bread crumbs
1/4 cup chopped onions
1/4 cup milk
1 clove garlic, minced
1/4 tsp. salt
1/4 tsp. pepper
1/2 tsp. chili powder (optional)
2 Tbsp. oil
1 tsp. mustard

BBQ Sauce
1 1/3 cups brown sugar
1 15-ounce can tomato sauce
1 cup cider vinegar
1 large onion, chopped
6 Tbs. Dijon mustard
1 1/3 Tbs. thyme, dried, crumbled
1 tsp. salt
1 tsp. cayenne pepper

In large bowl, combine ground beef, egg, bread crumbs,
onion, milk, garlic, pepper, salt, mustard and chili powder. Using hands Mix well. Shape into about 35-45 1 inch balls. In a large skillet, heat oil over medium-high until oil sizzles, about 1 minute. Add meatballs.

Brown on all sides. In a small bowl, combine sauce ingredients. Add to meatballs.

BBQ Sauce
Combine all in medium saucepan. Simmer 15 minutes to blend flavors. Season with pepper to taste.

Add meatballs to the sauce and stir gently to coat meatballs. Bring to a boil. Reduce heat to low. Cook covered until meatballs are done through and through.

You can put them in a crock pot and cook on low until ready to serve.
Featured Recipes:
Chocolate - the food of the Gods
Step-by-step cake decorating
Featured Magazine:
Dessert Professional