Sweet and Sour Chicken Wings
makes 24

24 chicken wings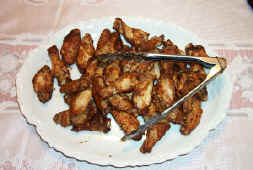 1 Cup sugar
1 Cup water
1 Cup Soy Sauce
1/4 cup oil
1/4 cup unsweetened pineapple juice
1 tsp. garlic powder
1 tsp. ginger

Preheat oven to 350 degrees F.

Mix all above ingredients. Place wings in a pan and pour mixture over wings.
Let Marinate overnight. Bake in pan at 350°F for 50-60 minutes. Serve warm.
Featured Recipes:
Chocolate - the food of the Gods
Step-by-step cake decorating
Featured Magazine:
Dessert Professional