Spinach and Crab Dip
Serves 4

2 (10 oz.) packages of frozen, chopped spinach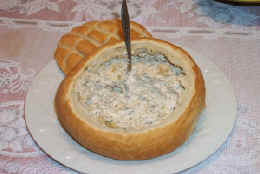 1 cup sour cream
1 cup mayonnaise
1 Tbs. dried onion soup mix
4 ounces flaked crab meat or imitation crab meat
1 round sourdough bread loaf

Thaw and drain spinach dry. Stir together spinach with remaining ingredients. Cover and refrigerate for at least an hour.

Cut out the center in a round sourdough loaf. Place mixture inside and serve with wedges of bread and crackers.
Featured Recipes:
Chocolate - the food of the Gods
Step-by-step cake decorating
Featured Magazine:
Dessert Professional