Sour Cream and Salsa Dip
Serves 8

1/2 Cup Sour Cream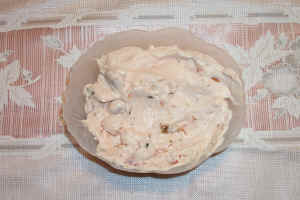 1 Tbs. Minced Fresh Parsley
1 tsp. Fresh Lime Juice
1/4 Cup Prepared Salsa

Salsa ingredients:
1 - 28 oz can of peeled whole tomatoes
1 Serrano chili pepper
1 yellow chili pepper
1/2 bunch of cilantro
4 - 5 stalks of green onions
Salt to taste

To make Salsa:
Drain the juice from the tomatoes into a medium bowl and add the cilantro and chili peppers. Blend in a blender and set aside.

Blend the tomatoes separately and add to the above. (Don't blend the cilantro and tomatoes together in the blender.)

Add finely chopped green onions to the mixture and stir.

Add salt to taste (about 1 tsp.)

To make Sour Cream Salsa Dip:
Mix 1/4 cup salsa, Sour Cream, fresh lime juice, and parsley. Refrigerate until ready to use.

Featured Recipes:
Chocolate - the food of the Gods
Step-by-step cake decorating
Featured Magazine:
Dessert Professional