Black Bean Chile
Serves 4 people
1 cup black beans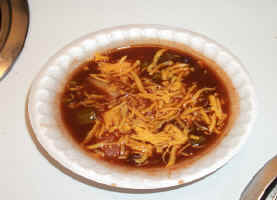 4 cups water
3 cups or chicken broth
2 cups stewed tomatoes
2 Tbs. olive oil
1 onion, chopped
5-8 cloves garlic, coarsely chopped
1/2 red bell pepper, chopped
1 Tbs. cumin
2 tsp. chile powder
1 tsp. dried oregano
2 hot Italian sausages, remove casing, chopped
1 to 2 Tablespoons salsa of choice
1/2 cup cilantro, chopped
1/4 cup grated cheddar cheese

Sort thru beans and remove the bad ones. Soak beans in 4 cups water overnight.

Add broth and stewed tomatoes to beans and soaking liquid, simmer with lid on until beans are almost tender, about 1 to 1.5 hours.

Heat olive oil in skillet and sauté onion, garlic, red bell pepper, spices, and sausage until onion is browned. Add to beans.
Add salsa, and simmer another 30 to 45 minutes. Boil over high heat for a few minutes to increase thickness.

Grate fresh cheddar cheese over the tops of each bowl of chili.

Featured Recipes:
Chocolate - the food of the Gods
Step-by-step cake decorating
Featured Magazine:
Dessert Professional