Vegetable Potato Bean Soup
Serves 10
1 lb. dried black beans (or any beans you prefer)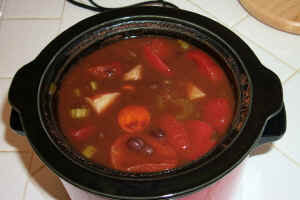 8 cups water
1/2 cup dry red wine
2 tsp. dried basil
1 1/2 tsp. salt
1 tsp. dried marjoram
1/4 tsp. pepper
2 cups onion, chopped
2 cups red potatoes, chopped
1 cup celery, chopped
1 cup carrot, sliced
6 garlic cloves, minced
1 12 oz can stewed tomatoes

Sort and wash beans. Place beans into a bowl and cover with water about 2 inches above beans and leave overnight.

Place beans without the water into a crock pot dish. Now add 8 cups water and all the other ingredients. Cover and place on low temperature. Simmer 2 1/2 hours or until vegetables are tender. Place soup into bowls and serve.

Featured Recipes:
Chocolate - the food of the Gods
Step-by-step cake decorating
Featured Magazine:
Dessert Professional