Chocolate Oatmeal Cookies
Makes 1 1/2 dozen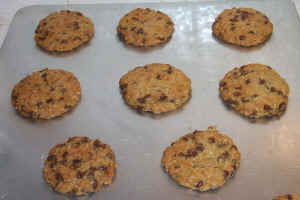 1 cup margarine or butter, softened
1 cup brown sugar
1/2 cup granulated sugar
2 eggs
1 tsp. vanilla
1 1/2 to 2 cups flour (add more if it's too moist)
1 tsp baking soda
1/2 tsp salt.
3 cups quick oats
3 Cups chocolate chips

In a large bowl cream together butter, sugars and vanilla. Beat in egg. Mix in flour, baking soda, and salt.

Stir in oatmeal and chocolate chips until well blended.

On a baking sheet place a ball of dough 2 inches between each other.

Bake at 350 degrees F. for about 8-10 minutes.

Featured Recipes:
Chocolate - the food of the Gods
Step-by-step cake decorating
Featured Magazine:
Dessert Professional