Campbell's® Chicken & Stuffing Skillet
Serves 4
Prep/Cook Time: 20 minutes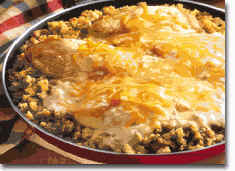 1 tbsp. butter or margarine
4 boneless chicken breast halves
1 box (6 oz.) Pepperidge Farm® One Step Chicken Flavored Stuffing Mix
1 can (10 3/4 oz.) your favorite Campbell`s® Cream Soup*
1/2 cup milk
1/2 cup shredded Cheddar cheese

HEAT butter in skillet. Add chicken and cook 12 to 15 min. or until done. Remove chicken.

PREPARE stuffing in skillet according to pkg. directions except let stand 2 min.

TOP with chicken. Mix soup and milk. Pour over chicken. Sprinkle with cheese. Cover and heat through.

*Delicious with Campbell`s® Cream of Celery, Cream of Chicken or Cream of Mushroom Soup.

©1997-2000 Campbell Soup Company. All Rights Reserved.

Featured Recipes:
Chocolate - the food of the Gods
Step-by-step cake decorating
Featured Magazine:
Dessert Professional