Fat-Free Lemon Custard Bars
serves 9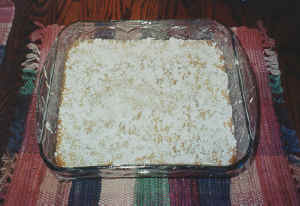 Crust:
Butter flavored cooking spray
1/4 cup fat-free margarine
1 Cup powdered sugar
1 Cup Flour
1/8 tsp. salt
1 tsp. vanilla extract
Topping:
1/2 cup egg whites
1 Cup sugar
2 Tbs. flour
1/4 tsp. baking powder
1/8 tsp. salt
1 tsp. finely grated lemon rind
3 Tbs. lemon juice
Powdered sugar to dust top

Preheat oven to 325 degrees F.
Spray and 8 inch square pan with cooking spray and wipe with a paper towel.
In a medium sized bowl, combine crust ingredients and mix well. Spread crust dough over bottom of the pan.
In a small bowl, combine topping ingredients and mix well. Pour the topping over the crust. Bake for 27-30 minutes.
Cool completely before cutting bars and serving. Dust bars with powdered sugar when cool.