Lemon Dill Chicken with Vegetables Medley
Serves 4

4 pieces skinless boneless chicken, thawed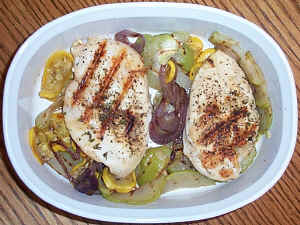 salt, to taste
pepper, to taste
garlic powder, to taste
dried lemon, to taste
dill, to taste
2 Summer (yellow) squash, sliced
2 patty (green) squash, sliced

Coat a large non-stick skillet with olive oil. Heat the skillet for several minutes over medium-high heat. Place the chicken into the skillet so that the pieces do not overlap. Pan-fry for 4-5 minutes per side or until nicely browned on the outside and cooked through. Finish with a splash of fresh lemon juice.

While the chicken is cooking, bring the squash in 2-3 quarts of salted water to a boil in a covered saucepan. Do not replace the lid. Bring back to a boil and cook for 1-2 minutes until crisp tender.

Stir in some dried dill, if desired, and season to taste with salt and pepper.
Featured Recipes:
Chocolate - the food of the Gods
Step-by-step cake decorating
Featured Magazine:
Dessert Professional