Parmesan Garlic Bread

1 Tbs. dry yeast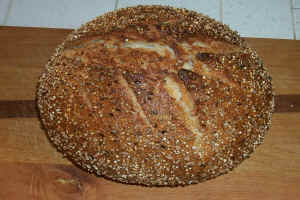 1 1/2 cups warm water
2 Tbs. sugar
1 tsp. salt
1/4 cup olive oil
3 1/2 (plus a little extra) cups bread flour
2 large cloves garlic, crushed
1/3 cup finely grated fresh parmesan cheese

Add yeast and sugar to warm water; stir to dissolve. Add salt, olive oil, and 2 cups bread flour; mix with electric mixer until very smooth. Add in 1 1/2 cups more bread flour; using electric mixer - mix and knead until smooth and elastic. Add in enough of the extra flour while kneading with the mixer, just until the dough is non-sticky.

Sprinkle the countertop with grated parmesan cheese. Turn out dough onto the countertop. Sprinkle crushed garlic over dough. Now knead in the garlic and grated cheese by hand just until well incorporated. Place in a greased bowl, cover with plastic wrap, and let rise until doubled in size. Punch down and let rise again.

Punch down the dough and let stand for 5-10 minutes. place a piece of parchment paper onto a cookie sheet. Form dough into a large round loaf.

Let rise for about 25 minutes. Bake in a preheated oven at 375 degrees F. for 23-27 minutes or until a nice golden brown. Cool on rack. Slice when cooled..