Cream of Garlic Soup
Serves 6

4 cups onion, peeled and chopped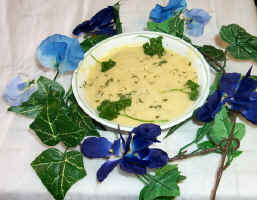 2 cups garlic, peeled and chopped
2 Tbs. olive oil
2 Tbs. butter
1 1/2 quarts chicken broth
parsley stems, thyme sprigs and bay leaf, tied together
2 cups old French Bread, torn into 1/2-inch pieces
1 cup half and half cream
Salt and pepper

In a large heavy pot, saute onions and garlic in butter and oil. Stir frequently over low to medium heat for about 30 minutes.

Tie parsley stems, thyme sprigs and bay leaf together with string.

Add chicken broth and herb bundle to pot and bring to a boil. Stir in bread cubes and simmer 10 minutes, until bread is soft.

Remove herb bundle and puree soup in blender. Strain through medium sized strainer.

Heat and whisk in more chicken broth if the soup is too thick. Add half-and-half. Season to taste with salt and pepper.

Featured Recipes:
Chocolate - the food of the Gods
Step-by-step cake decorating
Featured Magazine:
Dessert Professional