Summer Fresh Tomato Soup
Serves 4
6 medium tomatoes or 2 lb Italian plum tomatoes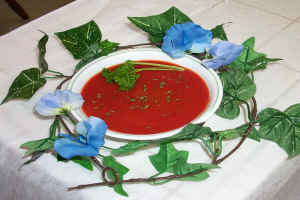 1 onion, chopped
1 celery stalk, chopped
2 cups chicken broth
1 Tbs. tomato paste
1/2 tsp. basil
1/4 tsp. pepper
1/2 tsp. salt

Cut tomatoes into wedges and place in a saucepan with all ingredients.

Simmer uncovered for 30 minutes.

Strain and remove tomato skins and seeds. Adjust seasonings. Garnish with fresh herbs.
Featured Recipes:
Chocolate - the food of the Gods
Step-by-step cake decorating
Featured Magazine:
Dessert Professional