Tex-Mex Guacamole Dip
Makes 2 cups
2 Ripe avocados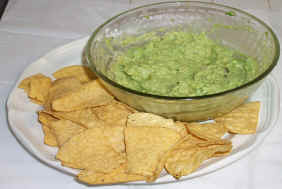 2 Tbs. Lemon juice
2 Cloves garlic, pressed
1 small Tomato, finely diced
4 Tbs. Finely minced onion
1/4 Tbs. Ground cumin
Dash of hot pepper sauce

Halve, seed and peel avocados. Place avocados in a medium bowl.

Using a potato masher, mash avocados with lemon juice and garlic. Stir
in tomatoes, onion, cumin, and hot pepper sauce.

Serve with Chips or fresh zucchini, cucumber slices, carrots or celery sticks.

Featured Recipes:
Chocolate - the food of the Gods
Step-by-step cake decorating
Featured Magazine:
Dessert Professional