Baklava
10 pieces

6 Tbs. butter, melted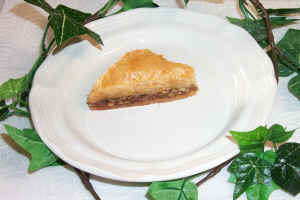 6 large sheets filo pastry
2 cups chopped mixed nuts (almonds, hazelnuts, walnuts)
1 cup breadcrumbs, fresh
1 tsp. cinnamon
1 tsp. all spice
1/2 tsp. nutmeg
1 cup honey
4 Tbs. lemon juice

Preheat oven to 350 degrees F.

Butter a 7 x 11" pan using the melted butter. Unroll the pastry, brush one sheet with melted butter (keep the remainder pastry covered while you work) and use to line the pan, easing it up the sides.

brush two more sheets with butter and lay on top of the base sheet, easing the pastry into the corners and letting the edges overhang.

Mix together the nuts, breadcrumbs and spices in a bowl and spoon this mixture into the lined pan.

Cut the remaining three sheets of pastry in half width ways and brush each one with a little of the butter. Layer the sheets on top of the filling and fold in any overhanging edges.

Top with the remaining buttered sheets. Cut the baklava diagonally into diamonds. bake in the oven for about 30 minutes, until golden.

Meanwhile, heat the honey and lemon juice together in a pan. When the baklava is cooked, remove from the oven and pour the syrup over while still warm. Leave to cool completely, re-cut into diamonds and serve.
Featured Recipes:
Chocolate - the food of the Gods
Step-by-step cake decorating
Featured Magazine:
Dessert Professional