Port Mushroom Steak
Serves 4
Pepper Steak: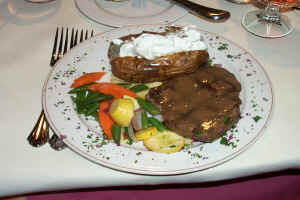 Four 4-ounce beef tenderloin steaks (about 1 inch thick)
1 Tbs. black peppercorns, crushed
1/2 tsp. kosher salt

Port Mushroom Sauce:
1 1/2 cups shiitake mushroom caps, sliced
1 Tbs. flour
1/3 cup port red wine
1/4 cup shallots, minced
1 Tbs. balsamic vinegar
1 cup beef broth
2 tsp. Worcestershire sauce
1 tsp. tomato paste
1/8 tsp. dried rosemary
1/2 tsp. Dijon mustard

Port Mushroom Sauce:
Combine mushrooms and flour in a bowl and toss to coat.

Combine the wine, shallots and balsamic vinegar in a medium skillet and bring to a boil. Cook until thick for about 3 minutes, reduce heat to medium.

Add broth, Worcestershire sauce, tomato paste and rosemary and cook for 1 minute.

Add mushroom mixture and cook for about 3 minutes, stirring constantly.

Stir in mustard. Set aside and keep warm.

For the Pepper Steak:

Sprinkle steaks with peppercorns and salt.

Heat a nonstick skillet over medium-high heat. Add steaks; cook for 3 minutes on each side or until desired doneness.

Pour Port Mushroom Sauce over the tops of each steak and serve.
Buy premium heartland quality steaks and meats!
Featured Recipes:
Chocolate - the food of the Gods
Step-by-step cake decorating
Featured Magazine:
Dessert Professional