Chicken Florentine
Serves 4
2 lb Boneless Chicken Breasts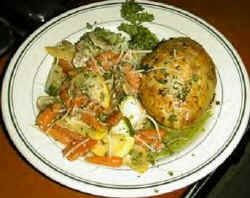 1/2 Cup All-Purpose Flour
2 large Eggs, Well Beaten
2/3 Cup Seasoned Dry Bread Crumbs
1/4 Cup Oil
1 Med. Clove Garlic, chopped fine
1/2 Cup Dry White Wine
1 pkg. onion Soup Mix
1 1/2 Cups Water
2 Tbs. Finely Chopped Parsley
1/8 tsp. Pepper

Wash chicken. Dip chicken in flour, then eggs, last bread crumbs.

In large skillet, heat oil and cook chicken over medium heat until almost done. Remove chicken. Reserve 1 Tablespoon drippings and add garlic and wine to reserved drippings. Cook over medium heat 5 minutes. Stir in golden onion recipe soup mix with water and thoroughly blend, bring to a boil.

Return chicken to skillet and simmer. Cover for 10 minutes or until chicken is done and sauce is slightly thickened.

Stir in parsley and pepper. To serve, arrange chicken over hot rice and spinach or steamed vegetables; garnish as desired.
Featured Recipes:
Chocolate - the food of the Gods
Step-by-step cake decorating
Featured Magazine:
Dessert Professional