Apple, Roast Beef and Watercress Salad with Creamy Horseradish Dressing
Serves 4
Bright red Braeburns add color and crunch to a main dish salad reminiscent of a proper English dinner. Serve with crusty bread.

Ingredients: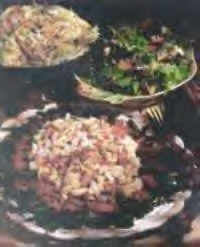 Creamy Horseradish Dressing (recipe below)
2 Braeburn apples, cored and cut into bite-size pieces
1 pound red new potatoes, cooked (peeled if desired) and diced
1 bunch watercress sprigs, tough stems discarded (about 4 cups)
12 to 16 ounces sliced cooked roast beef
Minced chives for garnish

Creamy Horseradish Dressing:
Combine 1/2 cup plain low-fat yogurt, 1 tablespoon prepared horseradish, 1 teaspoon lemon juice and 1/8 teaspoon freshly ground pepper. Makes about 1/2 cup.

Method:
In a large bowl, prepare Creamy Horseradish Dressing. Add apples and potatoes, toss gently.
Divide watercress and folded roast beef among 4 plates. Spoon apple and potato mixture over beef. Garnish with chives.

Nutrition information per serving 3/4
Protein: 28g; Fat: 13g; Carbohydrate: 42g; Fiber: 5g; Sodium: 111mg; Cholesterol: 70mg; Calories: 390

Copyright © 2001 Washington Apple Commission. All rights reserved.