Pilaf Medley
2 cups uncooked long-grain rice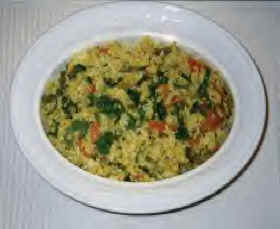 1 green bell pepper, seeded and thinly sliced
2 cups water
3 onions, peeled and thinly sliced
1 (17 oz.) can corn
3 cloves garlic, peeled and minced
2 carrots, peeled and cut into 1-inch-long, thin strips
2 Tbs. cashews, chopped
2 Tbs. light vegetable oil
2 cloves
1/4 tsp. ground turmeric
2 cinnamon sticks
1 jalapeno pepper, seeded and thinly sliced
1/4 tsp. salt
1 Tbs. chopped fresh cilantro

Begin cooking the rice by following the directions on the package or your favorite method. Set aside.

Meanwhile, in a small saucepan, boil the water. Add the corn and carrots, and cook for 8 to 10 minutes, until tender. Drain and set aside.

In a heavy nonstick saucepan, heat the oil. Add the turmeric, jalapeno peppers, bell peppers, onions, garlic, cashews, cloves, and cinnamon sticks. Saute until the onions soften. Turn off the heat.

Add the cooked vegetables and salt, and saute for 2 to 3 minutes. Add the cooked rice and mix thoroughly. Garnish with the cilantro and serve warm or at room temperature.
Featured Recipes:
Chocolate - the food of the Gods
Step-by-step cake decorating
Featured Magazine:
Dessert Professional