Migas
Makes 2 servings
Five Simple Ingredients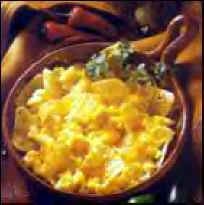 4 Large California Fresh Eggs
1/4 cup milk
1 tablespoon butter or margarine
1 cup broken baked tortilla chips
1 /2 cup grated cheddar cheese

Easy Directions
Mix eggs and milk together. Place butter or margarine in non-stick skillet. Add egg mixture and cook stirring until eggs start to set. Add broken tortilla chips and cheese and stir until eggs are set.

About this recipe
"Migas" means crumbs. Migas are popular in Texas and can be found on many breakfast menus. Use your left over tortilla chips to make this quick and easy meal for two.

Cooking Tip
Use milk when scrambling eggs when you wish to achieve a smooth, silky texture. Use water when making omelets. The water turns to steam and helps cook the omelet quickly.

Nutrition Information per serving: Calories 428, Protein 22 g., Carbohydrates 21 g., Fat 29 g., Cholesterol 474 mg., Sodium 525 mg., Iron 2.0 mg.
Copyright 2001 California Egg Commission
Featured Recipes:
Chocolate - the food of the Gods
Step-by-step cake decorating
Featured Magazine:
Dessert Professional