Gingerbread Cupcakes
These festive cupcakes are the perfect change of pace from regular gingerbread or gingerbread men cookies.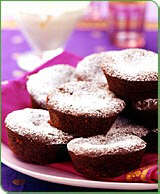 Yield: 24 servings
1 1/2 cups all-purpose flour
1 cup whole wheat flour
2/3 cup sugar
2 1/2 tsp baking soda
1 tsp ground ginger
1 tsp ground cinnamon
1 tsp ground allspice
1 1/2 cups unsweetened applesauce
1 cup molasses
3 large egg whites
3 cups lite whipped topping
Preheat oven to 325°F. Coat two 12-cup muffin tins with cooking spray.
Combine flours, sugar, baking soda, ginger, cinnamon and allspice in a large bowl; stir to mix well. Add applesauce, molasses and egg whites; stir until mixture is moist and well combined. Fill each muffin tin 3/4 full with batter.
Bake until a toothpick inserted in center comes out clean, about 40 minutes. Cool cupcakes to room temperature and serve each topped with 2 tablespoons of whipped topping.
Weight Watcher: 2 POINTS per serving
Copyright: Weight Watchers - send a Weight Watchers gift subscription!