Roasted Eggplant-Herb Crostini
Serve this sophisticated finger food on Super Bowl Sunday for a nice change of pace from the usual greasy fare.
Yield: 32 servings (slices)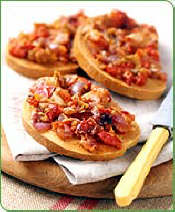 1 medium eggplant, peeled and cut into 1-inch pieces
1 medium sweet red pepper, cut into 1-inch pieces
1 medium red onion, cut into 1-inch pieces
3 medium garlic cloves, chopped
1 1/2 Tbsp olive oil
1 tsp table salt
1/2 tsp black pepper
1 Tbsp canned tomato paste
1 pound Italian bread, cut into thirty-two 1/2 oz slices
Preheat oven to 400ºF.
Arrange all ingredients, except tomato paste and bread slices, in the bottom of a roasting pan; mix well to coat. Roast until vegetables are tender, mixing occasionally, about 40 minutes.
Place eggplant mixture in a food processor and add tomato paste; pulse about 6 times until very small pieces form (do not puree until smooth). Spread 1 tablespoon eggplant mixture on each bread slice and serve.
Weight Watcher: 1 POINT per serving
Copyright: Weight Watchers - send a Weight Watchers gift subscription!