Quick Cheese Quesadillas
Yield: 6 quesadillas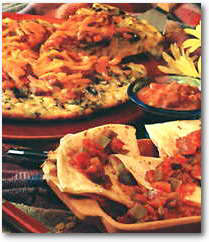 6 flour tortillas (8-inch)
1 1/2 cups shredded Monterey Jack cheese (6 ounces)
2 green onions, sliced (about 1/4 cup)
3/4 cup Pace® Picante Sauce
1 tablespoon margarine or butter, melted
1 medium tomato, chopped (about 1 cup)
Top half of each tortilla with cheese, onions and 1 tablespoon of picante sauce. Moisten the edges of the tortillas with water. Fold over and press edges together.
Place filled tortillas on 2 baking sheets and brush with margarine.
Bake at 400 F. for about 20 minutes or until golden.
Mix remaining picante sauce with tomato and serve with quesadillas.
TIP:
To melt margarine, remove wrapper and place in microwave-safe cup. Cover and microwave on HIGH 30 seconds.
Source: Campbell Soup Company
Go shopping for authentic Mexican groceries at MexGrocer!