Giant Chicken Burritos
Yield: 4 burritos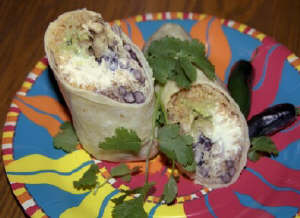 1 cup guacamole (recipe below)
2 grilled chicken breasts (recipe below)
2 cups cooked rice
1 cup sour cream
1/2 cup hot sauce
2 cups cooked black or pinto beans
4 10" tortillas
Guacamole:
2 ripe avocados
1 clove garlic, crushed
1 small onion, diced fine
1/4 teaspoon cumin
1/4 teaspoon cayenne pepper
In a small bowl, mash avocados with garlic. Stir in onion and seasonings. Cover tightly with plastic wrap and refrigerate until ready to use.
Grilled Chicken Breasts:
1 teaspoon garlic powder
1 teaspoon paprika
1/4 teaspoon cayenne pepper
1/4 teaspoon cumin
2 chicken breast
Blend all seasoning in a small bowl. Rub into chicken breasts. Cook chicken in a fry pan or broil, until browned on both sides and cooked through. Cut into bite-size pieces.
To assemble:
Lay a tortilla on a flat surface. Spoon 1/2 cup rice down center of tortilla to within one inch of each edge. Spoon 1/4 cup sour cream over rice. Top with 1/4 cup guacamole, 1/2 of one chicken breast, and 1/2 cup beans. Sprinkle with hot sauce.
Fold both short ends about 2 two inches over filling. Fold one long end completely over filling. Turn tortilla so covered filling is horizontal to you. Holding both ends in with thumbs and forefingers, roll covered filling away from you toward remaining edge of tortilla. Repeat with remaining ingredients.
Cut in half and decorate to serve.
Spice it up!!