Tuna Burgers
The herbs and apple in these burgers give them a taste of the French countryside.
Yield: 4 servings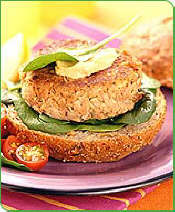 12 oz water-packed tuna fish, drained, and flaked
1 small apple, green, peeled, cored and minced
2 medium egg whites
1 tsp dried oregano
1/2 tsp dried thyme
1/4 tsp table salt
1/4 tsp black pepper
1/4 cup dried bread crumbs
4 medium hamburger buns
4 tsp Dijon mustard
4 piece spinach, leaves, washed and dried
Mix together tuna through bread crumbs. Allow to sit for 3 to 5 minutes.
Spray frying pan with cooking spray and heat over low-medium heat.
Form tuna mixture into four patties. Cook until crispy on one side, then flip and cook until crispy on the other side.
Serve on buns with spinach and Dijon mustard.
Weight Watcher: 6 POINTS per serving
Copyright: Weight Watchers - send a Weight Watchers gift subscription!