Cream of Cauliflower Soup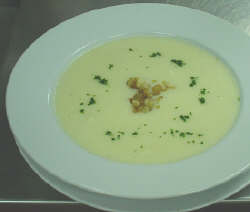 Yield: 4 Servings
1 head Cauliflower
2 cups Chicken broth
2 cups Cold water
4 Tbsp Butter
1/3 cup Flour
1 cup Milk
1 tsp Salt
1/4 tsp Pepper
1/8 tsp Nutmeg
1 Egg yolk
1/4 tsp Lemon juice
Remove the stem and leaves from the head of cauliflower. Separate the head into little florets and wash thoroughly. Coarsely chop cauliflower and add it to a pot. Add the chicken broth and water to the pot. Cook cauliflower until it is tender. When the cauliflower is tender, remove from the broth with a slotted spoon and set aside for later use.
In another pot add the butter and melt. When melted, add the flour to make a roux. Cook the roux for about 2 minutes stirring continuously. Then slowly add the broth to the roux while stirring making sure there are no lumps. Add the nutmeg, salt, and pepper and reserved cauliflower.
Cook until the cauliflower begins to fall apart, about 10 more minutes. Then with a hand blender pulse the soup until it is fairly smooth (you can use a regular blender). Return to a low heat on the stove.
In a small bowl mix the milk and egg yolk. Slowly add some of the soup to the milk egg mixture to temper it. When it is warm add back to the main soup stirring it in slowly. Cook for another 5 minutes, making sure never to boil it. When ready to serve add the lemon juice and stir well to mix it in.
Garnish with chopped parsley and server with some fresh-baked bread.
Enjoy!