Valentine's Day Heart Cookies
Bake your honey something special this Valentine's Day!!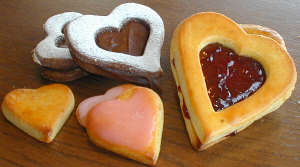 Yield: approx. 20 cookies depends on size
1/3 cup butter or margarine, softened
1/3 cup sugar
2 tsp. grated lemon zest
1 tbsp. lemon juice
1/4 tsp. vanilla extract
1 cup flour
1/2 tsp. baking powder
1/4 tsp. salt
Preheat oven to 350°F.
In a medium bowl, beat butter or margarine and sugar with an electric mixer on medium speed until light and fluffy.
Beat in lemon zest, lemon juice, and vanilla. Add flour, baking powder and salt to the butter mixture and blend together. Do NOT overmix once the flour has been added, just mix slightly until together. Refrigerate!
With a rolling pin on a lightly floured surface, roll out dough about 1/3 inch thick. Cut out cookies using a variety of heart cutters and place 2 inches apart on ungreased cookie sheets.
Re-roll scraps.
Bake 20 to 25 minutes, until cookies are pale golden, not brown. Let stand 2 minutes. Remove to a rack and let cool completely.
Optional: fill cookies with raspberry jam and/or decorate.
More Valentine's recipes and ideas!