Honey Lemon Squares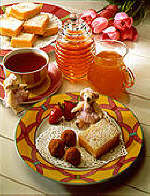 Yield: 12 servings.
1/2 cup butter or margarine, softened
1/4 cup powdered sugar
1 cup + 1 Tbsp. flour, divided
3/4 cup honey
1/2 cup lemon juice
3 eggs
1 tsp. grated lemon peel
1/2 tsp. baking powder
In a medium bowl, cream butter and powdered sugar until light and fluffy. Add one cup of flour and mix until combined. Press mixture evenly into the bottom of a 8-inch square pan. Bake at 350 F for 20 minutes or until lightly browned.
Meanwhile, in a medium bowl, whisk together remaining 1 Tbsp. flour with remaining ingredients until thoroughly blended. Pour over the baked crust; bake 20 minutes more, until filling is set. Cool in pan and cut into squares to serve.
Source: National Honey Board