Carol Fenster's Pizza Crust & Pizza Sauce - Wheat-free
This crispy crust tastes so delicious that my guests did not know it was wheat-free — and they couldn't believe it when I told them at the end of the meal! Use any topping you like.
Makes 6 servings (1 slice per serving)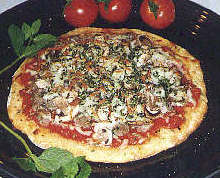 Pizza Crust
1 tablespoon dry yeast
2/3 cup brown rice flour or sorghum flour*
1/2 cup tapioca flour*
2 teaspoons xanthan gum*
1/2 teaspoon salt
1 teaspoon unflavored gelatin powder (Knox)
1 teaspoon Italian herb seasoning
2/3 cup warm milk (110°) or non-dairy liquid
1/2 teaspoon sugar
1 teaspoon olive oil
1 teaspoon cider vinegar
Extra rice flour for sprinkling
Pizza Sauce
1 can (8 oz.) tomato sauce
1/2 teaspoon dried oregano leaves
1/2 teaspoon dried basil leaves
1/2 teaspoon crushed dried rosemary
1/2 teaspoon fennel seeds
1/4 teaspoon garlic powder
2 teaspoons sugar
1/2 teaspoon salt
Toppings of your choice
*Available at health food stores by Authentic Foods, Bob's Red Mill, and Ener-G Foods.
Sauce:
Combine all ingredients in small saucepan and bring to boil over medium heat. Reduce heat to low and simmer for 15 minutes, while Pizza Crust is being assembled. Makes about 1 cup.
Crust:
Preheat oven to 425°. In medium mixer bowl using regular beaters (not dough hooks), blend the yeast, flours, xanthan gum, salt, gelatin powder, and Italian seasoning on low speed. Add warm milk, sugar, oil, and vinegar.
Beat on high speed for 2 minutes. (If the mixer bounces around the bowl, the dough is too stiff. Add water if necessary, one tablespoon at a time, until dough does not resist beaters.) The dough will resemble soft bread dough.
Put mixture on a greased 12-inch pizza pan. Liberally sprinkle rice flour onto dough, then press dough into pan, continuing to sprinkle dough with flour to prevent sticking to your hands. Make edges thicker to hold the toppings.
Bake pizza crust for 10 minutes. Remove from oven. Top Pizza Crust with sauce and your preferred toppings. Bake for another 20-25 minutes or until top is nicely browned.
Calories, 153; Fat 1.5g, Protein 4g; Carb. 33g; Chol.1 mg; Sodium 635 mg; Fiber 3g (crust and sauce only)

Recipe by Carol Fenster, Ph.D. of Savory Palate Press
Special Diet Solutions:
Healthy Cooking Without Wheat, Gluten, Dairy, Eggs, Yeast or Refined Sugar. Enjoy your favorite dishes. . . without the ingredients you can't have. From our Special Diet Series of cookbooks. Buy the book!