Tuna Muffins
This tasty muffin recipe comes from Weight Watchers Australia.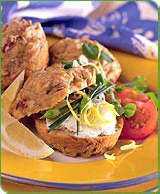 Yields: 12 muffins
1 1/2 cup white self-rising flour
1 tsp lemon peel, zest
1 Tbsp chives, fresh, chopped
1/8 tsp black pepper
3 oz low-fat cheddar or colby cheese, or 1/3 cup, shredded
1 1/2 Tbsp vegetable oil
1 large egg
1/2 cup fat-free milk
15 oz water-packed tuna fish, drained
Preheat oven to 350 F. Coat a large muffin pan with cooking spray.
Sift flour into a bowl; stir in zest, chives, pepper and cheese. Combine oil, egg, skim milk and tuna in another bowl; add to flour mixture and stir until just combined.
Spoon mixture into prepared muffin tins. Bake until set, about 20 to 25 minutes. Remove from tins immediately and serve hot, or place on a wire rack to cool.
Weight Watcher: 1 muffin per serving - 3 POINTS per serving
Copyright: Weight Watchers - Order a Weight Watchers subscription!