Quinces and Prunes with Caramelized Brioche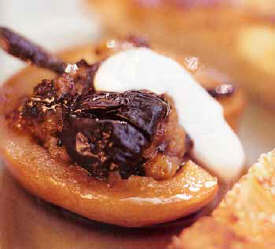 Yield 6 servings
For quinces
4 cups water
2 1/2 cups plus 2 tablespoons sugar
3 fragrant small pineapple quinces* (1 lb total), halved lengthwise
7 pitted prunes, halved
2/3 cup Armagnac (French Brandy)
2 tablespoons unsalted butter
1/4 cup plus 1 tablespoon Grand Marnier or other orange liqueur
1 vanilla bean, halved lengthwise
For caramelized brioche
1 vanilla bean, halved lengthwise
2/3 cup heavy cream
3 large eggs
1/2 cup sugar
1 tablespoon Grand Marnier
6 (3/4-inch-thick) slices from a large brioche or challah loaf
Accompaniment: crème fraîche or ice cream
Prepare quinces:
Bring water and 2 1/2 cups sugar to a boil in a 4-quart heavy saucepan, stirring until sugar is dissolved. Add quinces and cook at a bare simmer, partially covered, turning occasionally, until tender when pierced near core with a fork (core will remain hard), about 45 minutes to 1 hour. Cool quinces, uncovered, in syrup, about 1 1/2 hours, then transfer with a slotted spoon to a plate.
While quinces are cooling, simmer prunes in Armagnac in a small saucepan, uncovered, until plump, about 10 minutes, then cool. Drain prunes in a sieve set over a bowl, reserving Armagnac. Set aside 6 prune halves and finely chop remainder. Cook butter and remaining 2 tablespoons sugar in a 2-quart heavy saucepan over moderate heat, stirring, until sugar is dissolved, about 5 minutes. Carefully add 1/4 cup Grand Marnier and 6 tablespoons reserved Armagnac. (Mixture may ignite. If so, let flames burn out.) Simmer until slightly syrupy, about 2 minutes. Transfer Grand Marnier sauce to a measuring cup.
Core quinces using a large melon-ball cutter and a sharp small knife. Scoop 1 tablespoon flesh from center of each quince half and transfer to a bowl. Scrape seeds from vanilla bean with sharp small knife into bowl with quince flesh, reserving pod. Stir in chopped prunes and remaining tablespoon Grand Marnier.
Transfer quince halves to a shallow baking pan and spoon filling into cavity of each, then top with prune halves. Drizzle each quince half with 1 teaspoon Grand Marnier sauce, reserving remaining sauce. Cut vanilla pod halves crosswise into thirds and stick 1 piece into filling of each quince.
Make caramelized brioche:
Preheat broiler.
Scrape seeds from vanilla bean with sharp small knife into a shallow bowl, then whisk together with cream, eggs, sugar, and Grand Marnier. Dip brioche slices into batter 1 at a time, letting them soak 1 minute on each side. Transfer to a buttered shallow (1-inch-deep) flameproof baking pan.
Broil 4 to 6 inches from heat until golden brown, about 2 minutes on each side. Transfer brioche to a cutting board and halve diagonally, then return to baking pan.
Preheat oven to 400°F.
Bake quinces in upper third of oven until heated through, about 10 minutes. At the same time, reheat brioche in lower third of oven until hot, about 6 minutes. Divide quinces and brioche among 6 plates and drizzle remaining Grand Marnier sauce over and around quinces. Spoon crème fraîche or ice cream on top.
Note: Quinces may be stuffed 1 day ahead and chilled, covered.
* Available at some specialty produce shops.
Source: Gourmet Magazine - Gourmet Entertains - order a subscription!