Coconut Panko Shrimp with Hot Raspberry Dipping Sauce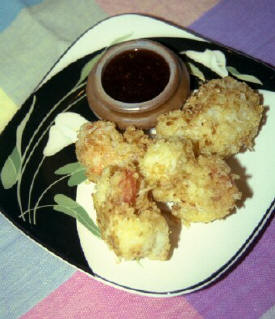 Yield: 4 servings
1 pound large shrimp (about 20 shrimps)
2 eggs
1 cup milk
2 cups panko (Japanese bread crumbs)
2 cups shredded coconut
oil
1 cup raspberry jam
1/4 to 1/2 cup hot pepper sauce
Peel, devein and wash shrimp. Set aside.
In a pie plate or shallow dish, blend eggs with milk. In a separate pie plate or shallow dish, blend panko with coconut. Dip all shrimp in egg/milk mixture and then into panko/coconut mixture, placing on plate when coated. Repeat with all shrimp, dipping each again into both mixtures.
Heat oil in a large skillet or deep fryer. Cook shrimp, several at a time until golden brown on each side. Drain well on paper towels.
To prepare sauce, mix raspberry jam with desired amount of hot sauce. Pour into individual serving bowls or spoon onto plate when ready to serve.
An unbeatable selection of ocean-fresh seafood - buy seafood!