Apple Brioche Pizza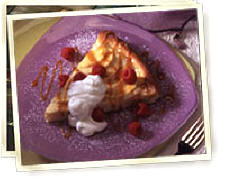 Yield: 1 (12-inch) pizza, 8 servings
Crust
2 2/3 cups bread flour
1/4 cup sugar
1 package (1/4 ounce or 2 1/4 tsp) FLEISCHMANN'S RapidRise Yeast
1/2 teaspoon salt
1/2 cup (1 stick) butter, cut up
1/4 cup milk
1/4 cup water
2 eggs
Topping
3 tablespoons sugar
2 tablespoons bread flour
1/4 cup whipping cream
1 tablespoon Calvados (apple brandy) or 2 teaspoons SPICE ISLANDS Pure Vanilla Extract
2 cups thinly sliced, cored and peeled apples (about 2 medium)
1/4 cup apricot preserves, warmed
To make crust:
In large bowl, combine 1 cup flour, sugar, undissolved yeast and salt. Heat butter, milk, and water until very warm (120 to 130 F). Butter does not need to melt. Gradually stir into dry ingredients. Stir in eggs and remaining flour to make soft dough. Knead 5 minutes. (Dough will be buttery; do not add additional flour.) With floured hands, press dough to form 12-inch circle on lightly greased pizza pan, cookie sheet or sheet pan. Cover and let rest 30 minutes.
To make topping: In small bowl, combine sugar and flour. Gradually add cream and Calvados; stir until smooth. Set aside.
Preheat oven to 400 F.
Form 3/4-inch high rim along edge of dough. Arrange apples on dough, overlapping slightly; carefully spoon cream mixture over top. Bake on middle oven rack 18 to 22 minutes or until crust is golden brown and apples are almost tender. Remove from pan; place on wire rack to cool slightly. Spread apricot preserves over top.
Nutrition information per serving (1/8 of recipe): calories 415; total fat 17g; saturated fat 9g; cholesterol 95mg; sodium 291mg; total carbohydrate 58g; dietary fiber 2g; protein 8g
Source: Fleischmann's Yeast, a division of Burns Philp Food, Inc.