Dried Apricot Pistachio Biscotti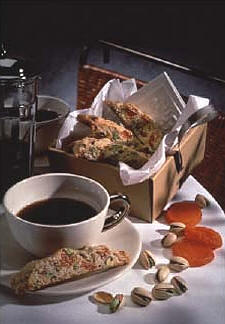 Yield: 2 dozen biscotti
1 1/4 cups all-purpose flour
1/2 cup whole wheat flour
1 cup granulated sugar
1/2 teaspoon baking powder
1/4 teaspoon salt
5 tablespoons unsalted butter, cold, cut into pieces
3/4 teaspoon vanilla
2 eggs, lightly beaten
2/3 cup California dried apricot halves, chopped
1 cup natural California pistachios
1 teaspoon granulated sugar
Preheat oven to 350 degrees F.
Lightly butter large baking sheet.
In food processor, combine first five ingredients. Pulse to blend. Add butter and vanilla; pulse until mixture resembles coarse meal. Add eggs and pulse 3 times to blend. Add apricots and pistachios; pulse until mixture is evenly moistened. Transfer mixture to large bowl; use hands to form into dough. Divide dough in half.
On lightly greased baking sheet, shape dough into two 12-inch logs. With hands, flatten each log to a width of 2 inches. Sprinkle each with remaining sugar.
Bake 25 minutes or until golden brown. Remove logs to cooling rack for 10 minutes. With serrated knife, carefully cut logs on the diagonal into 1 inch slices. Place on baking sheet cut side up; return to oven and bake 7 minutes, or until very lightly browned. Transfer to rack; cool completely.
Source: California Pistachio Commission