Chocolate Bread Pudding with Cappuccino Sauce
Yield: 8 servings
Chocolate bread pudding:
4 ounces semisweet chocolate, chopped
1/3 cup granulated sugar, divided
1/2 cup heavy cream
4 tablespoons unsalted butter
3 large eggs, separated
1 teaspoon vanilla extract
5 slices fresh firm-textured white bread, such as Pepperidge Farm cut into 1/2-inch cubes, to yield approximately 3 1/2 cups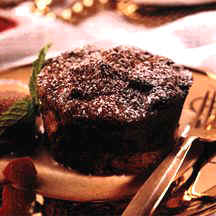 Cappuccino Sauce:
1 cup heavy cream
1 teaspoon instant espresso powder
1/4 teaspoon ground cinnamon
3 large egg yolks, at room temperature
3 tablespoons granulated sugar
Chocolate sorbet for garnish (optional)
Make the bread pudding:
Preheat oven to 350 F. Lightly butter bottoms and sides of eight ceramic ramekins or custard cups. Coat with granulated sugar.
Combine chopped chocolate, half of the sugar, heavy cream and butter in small heavy saucepan over low heat. Stir until chocolate is melted and mixture is smooth. Transfer to large bowl and let cool to room temperature, stirring occasionally. Whisk in egg yolks and vanilla.
Beat egg whites in medium bowl until soft peaks form, using electric mixer at medium speed. Slowly add remaining sugar, beating at high speed. Beat until stiff peaks form. Fold egg whites into chocolate mixture.
Gently fold in bread cubes. Divide mixture evenly among the prepared ramekins. Place in large baking pan. Add enough hot water to fill halfway up sides of ramekins.
Bake 45 to 50 minutes or until a knife inserted into center of a pudding comes out clean. Place ramekins on wire rack to cool slightly.
Make the cappuccino sauce:
Heat heavy cream in small heavy saucepan over low heat until it comes to a gentle boil. Whisk in espresso powder and cinnamon. Let cool slightly.
Whisk egg yolks with sugar in mixing bowl. Slowly whisk in hot cream mixture. Return mixture to saucepan and cook over low heat for 4 minutes, stirring constantly, or until sauce thickens enough to coat the back of a spoon. Remove from heat. Cover surface with plastic wrap. Let cool to room temperature. Refrigerate until serving time.
To serve:
Unmold pudding on dessert plate and surround with cappuccino sauce. Top with a scoop of chocolate sorbet, if desired.
Copyright: Chocolatier