Huevos Rancheros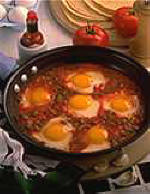 Yield: 6 servings
2 tablespoons olive oil
1/2 cup chopped onion
1 green pepper, chopped
1 tomato, peeled and chopped
1 clove garlic, minced
1 teaspoon dried leaf oregano
1/2 teaspoon salt
1 teaspoon TABASCO brand Pepper Sauce
1 8-ounce can tomato sauce
1/2 cup water
6 eggs
In large skillet, heat olive oil.
Add onion and green pepper, cook until tender. Add tomato, garlic, oregano, salt, Tabasco sauce, tomato sauce and water. Simmer, covered for 20 minutes.
Uncover. Break eggs, one at a time, into cup and slip into sauce. Cover and simmer over low heat until eggs are set, about 5 minutes.
Serve over tortillas or toasted English muffins, topped with some of the sauce.