Garden Vegetable Pistachio Potato Salad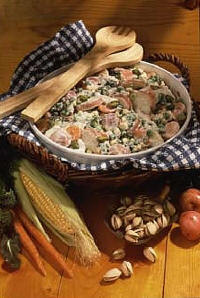 Yield: 12 servings
2 lbs. new red potatoes
1 cup petite frozen peas, defrosted (see note)
1 large carrot, pared, sliced (1 cup)
1 cup fresh corn kernels (2 ears)
1 cup broccoli flowerettes, cut into small pieces
1/4 cup sliced green onion
1/2 cup natural California pistachios
3/4 cup plain nonfat yogurt
3/4 cup fat-free mayonnaise
1 teaspoon dill weed
1/2 teaspoon black pepper
Cook whole potatoes in boiling water about 15 to 20 minutes, or until tender; drain. Cool, then slice potatoes 1/4 inch thick.
Combine potatoes with peas, carrot, corn, broccoli, green onion and pistachios in large bowl. Stir yogurt with mayonnaise, dill and pepper; combine with vegetables and toss gently.
Note: To thaw peas, pour hot water from cooking potatoes over peas in sieve.
Source: California Pistachio Commission