Sesame Crusted Orange Roughy with Rice and Sautéed Green Beans
Yield: 4 Servings
4 filets Orange Roughy (or any lean fish)
1/2 cup Sesame seeds (white or black)
1 tsp Salt
1/2 tsp Pepper
1 Tbsp Sesame oil
1 Tbsp Canola oil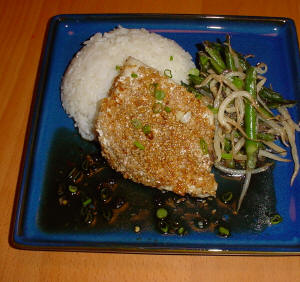 1/2 lb Green beans
1 hand full of Bean Sprouts
1 Tbsp Oil
1 Tbsp Ginger, minced
1 Tbsp Garlic, minced
1 tsp Sugar
1 Tbsp Soy sauce
Sauce
1/4 cup Orange juice
1/4 cup Rice wine vinegar
1/4 cup Soy sauce
1/4 cup Mirin (or dry sherry)
1 tsp Ginger, minced
1 tsp Garlic, minced
2 Scallions, sliced
1 tsp Dry chili flakes
1 Tbsp Sugar
2 cups Steamed white rice
Mix all the sauce ingredients in a small bowl and set aside while preparing the rest of the dish. Set the rice to cook at this time also, so it will be ready when the meal is.
For the vegetables, remove the stems from the green beans and slice them in half diagonally. Wash the bean sprouts and set aside. In a pan, heat the oil. When hot add the ginger and garlic and sauté for about 1 minute. Then add the sugar, soy sauce, and green beans and cook over medium heat stirring ever few minutes. Cook until almost tender, about 12 minutes. When the green beans are almost tender add the bean sprouts and mix well. Continue cooking for about 5 minutes more.
Place the sesame seeds in a bowl. Season both sides of the fish filets with salt and pepper. Then coat both sides of the fish in sesame seeds. The seeds should stick to the fish. Heat the sesame and canola oil, when hot add the fish filets to the pan making sure not to overlap. Cook fish on one side till the seeds are nicely toasted about 3 minutes. Then turn the fish and finish cooking the other side about 5 minutes. The fish is done with the flesh is firm and opaque.
Place a scoop of rice on a plate then top it with the fish and add the vegetables to the plate as well as some sauce. Serve with beer or white wine.
Our seafood is a fantastic catch!
Salmon, crab, lobster, sole, swordfish and more...
an unbeatable selection of ocean-fresh seafood.