Beef Ribs with Cabernet Sauce
Beef and wine are natural partners, and this recipe shows the tenderizing power of the grape. Beef ribs never had it so good!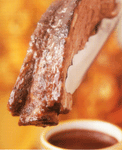 Yield 4 servings
For the rub:
2 teaspoons dried marjoram
2 teaspoons paprika
1 teaspoon granulated garlic
1 teaspoon light brown sugar
1 teaspoon kosher salt
1 teaspoon freshly ground black pepper
2 beef rib racks, about 5 pounds
For the sauce:
1-1/2 cups barbecue sauce
1 cup Cabernet Sauvignon
Kosher salt
Freshly ground pepper
To make the rub: In a small bowl combine the rub ingredients.
Trim the ribs of any excess fat. Press the rub into the meat, cover with plastic wrap, and refrigerate for 8 to 12 hours.
Allow the ribs to stand at room temperature for 20 to 30 minutes before grilling.
Prepare a medium fire for direct grilling. Sear over direct medium heat until evenly browned, about 10 minutes, turning once halfway through searing time. Transfer to a heavy gauge aluminum pan large enough to hold the ribs in one layer. If necessary, cut the ribs into smaller sections.
To make the sauce: In a medium saucepan whisk together the sauce ingredients. Bring to a boil over high heat. Pour the sauce over the ribs and tightly cover with aluminum foil.
Prepare a medium fire for indirect grilling. Grill the ribs over indirect medium heat until very tender, 1-1/2 to 2 hours, turning once halfway through grilling time.
Remove the ribs from the pan and cut into one or two rib pieces. Skim off any fat from the sauce and season with salt and pepper. Serve the ribs hot with the sauce on the side.

Source: Weber's Big Book of Grilling by Jamie Purviance and Sandra S. McRae (Chronicle Books; 2001) Photographs by Tim Turner.