Roasted Vegetable Focaccia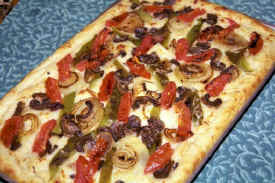 Yield: 6 servings
Dough
2 cups very warm water
1 (1/4-ounce) package active dry yeast
2 teaspoons honey
3 1/2 to 4 cups flour
1 cup potato flour
Topping:
2 green bell peppers
2 large onions
6 Roma tomatoes
2 cups grated mozzarella cheese
To prepare dough:
Pour water into a large mixing bowl. Sprinkle with yeast and pour in honey. Let sit for 15 minutes, allowing yeast to foam.
Add two cups flour and mix together. Stir in potato flour, blending well. Add enough remaining flour for dough to form a ball. Transfer dough to floured board and knead eight minutes (in mixer for five minutes) or until dough is smooth.
Coat the inside of a large glass or ceramic bowl with olive oil. Place dough in bowl, cover with wax paper and a dish towel folded in half. Put in a warm, out-of-the-way spot (no cold air, no drafts). Let rise for one to two hours, or until doubled in size.
While dough is rising, prepare roasted vegetables:
Start broiler. Wash, core and seed peppers. Cut in half lengthwise and slice curved edge to flatten. Place on baking pan or directly on broiling rack. Broil until skins are blackened. If necessary, rotate peppers to blacken evenly. Remove peppers from rack or pan with turning spatula and place peppers, stacked, in a heavy food storage bag. Close bag with a twist tie and set aside for 15 minutes. When ready, peel or rub off wrinkled skin and discard. Place peppers on a plate and set aside.
Heat oven to 450 F. Peel onions. Slice about 1/4-inch thick rings. Do not separate rings. Spray or brush a 1/2 sheet baking pan with olive oil and use a spatula to transfer each ring to the baking sheet. Place side-by-side in a single layer on one-half of the baking pan.
Wash and cut each tomato into six lengthwise pieces. Place pieces on baking pan next to onions. Brush or spray onions and tomatoes with olive oil. Roast vegetables until both sides are browned, about 20 minutes on each side. Remove individual pieces as they brown. Transfer all vegetable to a plate. Set aside.
To assemble:
Punch down dough. Pat and press into an oiled 1/2 sheet baking pan. Let rise for one hour. Slice peppers into lengthwise strips. Pre-heat oven to 475 F. Poke dough with finger at even intervals. Brush dough with olive oil. Bake for 15 minutes. Remove focaccia from oven and sprinkle mozzarella over top to within one inch of edges. Layer with roasted peppers, onion rings, and tomatoes. Bake for 20 minutes or until crust is golden brown.