Nut Blossoms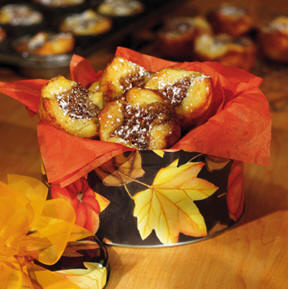 Yield: 18 rolls
2 cups all-purpose flour
1 / 4 cup sugar
1 envelope (1/4 ounce or 2 1/4 tsp) Fleischmann's RapidRise Yeast
1 / 2 teaspoon salt
1 / 2 cup milk
1 large egg
1 cup butter

Powdered Sugar for dusting
Pecan Filling:
1 cup firmly packed dark brown sugar
1 cup finely chopped pecans or other nuts
1 teaspoon vanilla extract
1 egg white
In large bowl, combine 1/2 cup flour, sugar, undissolved yeast, and salt. Heat milk until very warm (120 to 130 F). Gradually add to dry ingredients and beat 2 minutes at medium speed of electric mixer. Add egg and another 1/2 cup of flour, beat 2 minutes at high speed. Stir in enough remaining flour to make a soft dough. Knead on lightly floured surface until smooth and elastic, about 8 to 10 minutes. Cover tightly with plastic wrap and refrigerate 30 minutes.
Meanwhile, divide butter into 2 (1/2 cup) portions. Place each portion between 2 sheets of waxed paper. With rolling pin, flatten each to 4 x 8-inch rectangle. Refrigerate.
Roll dough on a lightly floured surface to 12 x 8-inch rectangle. Place one portion of butter at the center, leaving 4" of rolled-out dough on the left and 4" on the right side of the butter. Fold first third (4") of dough over butter. Place other portion of butter on top and fold last third of dough over butter. Place in a plastic bag and refrigerate for 30 minutes.
Again roll dough to a 12 x 8" rectangle and fold into thirds, just as before, but without adding more butter. Refrigerate. Repeat this rolling -folding process one more time.
Roll dough on lightly floured surface to 18 x 9-inch rectangle. Cut into 18 (3 x 3-inch) squares. Spoon out 2 teaspoons of Pecan Filling over center of each square. Place each square in lightly greased muffin pans. Cover; let rise in warm, draft-free place until doubled in size, about 45 minutes.
Preheat oven to 350 F. Bake for 20 to 25 minutes or until done. Let cool 10 minutes in pans. Remove from pans and cool. Sprinkle with powdered sugar.
Pecan Filling:
In medium bowl, combine 1 cup firmly packed dark brown sugar; 1 cup finely chopped pecans; 1 teaspoon vanilla extract; and 1 egg white. Stir well.
Nutrition Information Per Serving: 1 roll: Calories : 250, Total fat : 15 g, Saturated fat : 7 g, Cholesterol : 40 mg, Sodium : 180 mg, Carbohydrates : 27 g, Dietary fiber : <1 g, Protein : 3 g
Source: Fleischmann's Yeast, a division of Burns Philp Food, Inc.