Cheddar Dried Plum Turnovers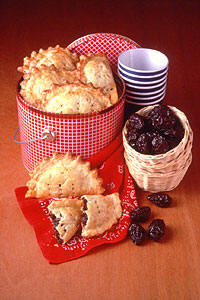 Yield: 12 Servings
Filling:
2 cups (about 12 ounces) pitted dried plums
1/2 cup warm water
1 teaspoon ground nutmeg
2 teaspoons grated lemon peel

Pastry:
1 3/4 cup flour
3/4 teaspoon Salt
3/4 cup Vegetable Shortening or butter

1 cup shredded sharp Cheddar cheese
1/4 cup cold water
1 egg, beaten
Heat oven to 400 F.
For Filling:
In food processor or blender, process dried plums, warm water and nutmeg until almost smooth, pulsing on and off and scraping sides of container as needed. Stir in lemon peel; set aside.
For Pastry:
Combine unbleached flour and salt in a large bowl and blend well. With a pastry blender, cut in shortening until evenly distributed. Mixture will resemble cornmeal in texture. Combine flour mix and cheese. Add cold water (adjusting water quantity as needed), tossing until evenly moistened. Form dough into 12 equal balls.
For each turnover, roll a ball of dough into a 5-inch circle. Place 2 tablespoons of Filling onto center of each circle. Lightly brush egg onto edge of circle. Fold in half and pinch edge to seal completely. Transfer to ungreased baking sheets; lightly brush top with additional egg and prick several times with fork.
Bake 18 to 22 minutes or until light brown and crisp. Serve warm or at room temperature.
After cooling, turnovers may be wrapped and frozen. Thaw before unwrapping. If desired, reheat in 350 oven for about 10 minutes.
Nutritional Information (per serving): Calories 267, Cholesterol 27mg, % of Calories from Fat 41%, Fat 12g, Sodium 246mg, Carbohydrates 34g, Protein 5g, Fiber 3g
Source: California Dried Plum Board