Ginger Christmas Pudding with Orange Hard Sauce
English Christmas "pudding" is really a dense, moist spiced cake. This ginger version is flavored with orange marmalade and topped with a traditional hard sauce — butter and sugar mixed with brandy.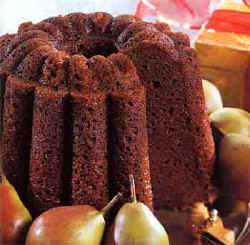 Yield: 8 to 10 servings
Hard Sauce
1 1/2 cups powdered sugar
1/2 cup (1 stick) unsalted butter, room temperature
2 tablespoons brandy
1 teaspoon grated orange peel
Pudding
Nonstick vegetable oil spray
1 1/4 cups all purpose flour
1 tablespoon ground ginger
2 teaspoons ground cinnamon
1 teaspoon baking powder
1/2 teaspoon salt
1/2 teaspoon baking soda
1/4 teaspoon ground cloves
3/4 cup sugar
6 tablespoons (3/4 stick) unsalted butter, room temperature
3 large eggs
1/2 cup orange marmalade
1/4 cup mild-flavored (light) molasses or honey
1 teaspoon grated orange peel
For sauce:
Combine all ingredients in small bowl; stir to blend well. (Can be made 4 days ahead. Cover and refrigerate. Bring to room temperature before serving.)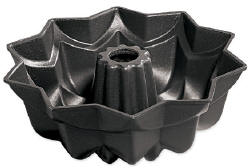 Star Bundt Pan
For pudding:
Coat inside and center tube of 6- to 10-cup pudding mold or Bundt cake pan with nonstick spray, then generously with butter.
Sift flour and next 6 ingredients into medium bowl. Using electric mixer, beat sugar and butter in large bowl until well blended. Beat in eggs, 1 at a time, then marmalade, molasses and orange peel. Add flour mixture and beat just until blended. Transfer batter to prepared mold. Cover mold tightly with foil.
Place steamer rack in large pot. Place pudding mold on rack. Fill pot with enough water to come halfway up sides of mold. Bring water to boil. Reduce heat to medium. Cover pot and steam pudding until tester inserted near center comes out clean, adding more boiling water as needed to maintain level, about 2 hours. Using oven mitts as aid, remove mold from pot.
Uncover and let stand 10 minutes. Cut around top center and sides of pudding to loosen. Turn pudding out onto rack and cool 20 minutes. Transfer pudding to platter. Cut pudding into wedges; serve with sauce.
Can be made 1 day ahead. Cool completely. Return to mold; cover and chill. Resteam 45 minutes to heat through, then turn out of mold.
Source Bon Appetit - Send a Bon Appetit Magazine gift subscription!
more Christmas Recipes