Raspberry Tossed Salad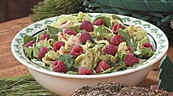 Yield: 12 servings.
9 cups torn mixed salad greens
3 cups fresh or frozen unsweetened raspberries
2 tablespoons olive or canola oil
2 tablespoons cider vinegar
4 teaspoons sugar
1/8 teaspoon salt
Dash pepper
In a large salad bowl, gently combine the salad greens and 2-3/4 cups raspberries. Mash the remaining berries; strain, reserving juice and discarding seeds. In a bowl, whisk the raspberry juice, oil, vinegar, sugar, salt and pepper. Drizzle over salad; gently toss to coat.
Nutritional Analysis: One serving (3/4 cup) equals 47 calories, 3 g fat (trace saturated fat), 0 cholesterol, 32 mg sodium, 6 g carbohydrate, 3 g fiber, 1 g protein.
Diabetic Exchanges: 1 vegetable, 1/2 fat.
This recipe is part of a Holiday Menu
Source: Nancy L in Taste of Home Magazine - subscribe to Taste of Home or send a gift subscription