Roasted Root Vegetables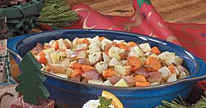 Yield: 10-12 servings.
5 medium red potatoes, cubed
4 medium carrots, cut into 1/2-inch slices
2 small turnips, peeled and cubed
1 garlic clove, minced
2 to 4 tablespoons olive or canola oil
1 tablespoon minced fresh rosemary or 1 teaspoon dried rosemary, crushed
1/2 teaspoon salt
1/4 teaspoon pepper
Place the potatoes, carrots, turnips and garlic in a greased 13-in. x 9-in. x 2-in. baking dish. Drizzle with oil; sprinkle with rosemary, salt and pepper. Stir to coat. Bake, uncovered, at 350 for 35 minutes. Increase temperature to 450; bake 10-15 minutes longer or until vegetables are tender.
Nutritional Analysis: One 3/4-cup serving (prepared with 2 tablespoons oil) equals 55 calories, 3 g fat (trace saturated fat), 0 cholesterol, 144 mg sodium, 7 g carbohydrate, 2 g fiber, 1 g protein.
Diabetic Exchanges: 1 vegetable, 1/2 fat.
This recipe is part of a Holiday Menu
Source: Nancy L in Taste of Home Magazine - subscribe to Taste of Home or send a gift subscription