Orange Chantilly Cream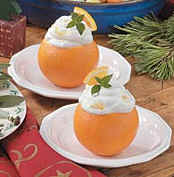 Yield: 12 servings.
12 medium navel oranges
4-1/2 cups whipping cream
1 cup confectioners' sugar
2-1/4 teaspoons orange extract
1/3 cup orange juice
Cut a thin slice off the top of each orange. With a grapefruit spoon, scoop out pulp. Invert oranges onto paper towels to drain. Remove and discard membranes from orange pulp; set pulp aside.
In a mixing bowl, beat cream until it begins to thicken. Add confectioners' sugar and extract; beat until stiff peaks form. Beat in orange juice. Fold in reserved orange pulp. Spoon into orange shells. Cover and refrigerate until serving.
This recipe is part of a Holiday Menu
Source: Nancy L in Taste of Home Magazine - subscribe to Taste of Home or send a gift subscription