Classic Dinner Rolls
You can make the dough and shape the rolls up to a day ahead of baking. Take the recipe to the point where the rolls are shaped and in the pan but not yet proofed and immediately refrigerate them. About half an hour before you're ready to bake, transfer them to a warm place to let them proof until almost doubled before baking them.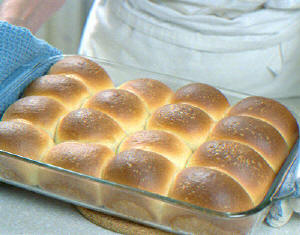 Yields 16 rolls.
18 oz. (4 cups) all-purpose flour
1 package (2-1/4 tsp.) rapid-rise yeast
1/3 cup sugar
1 tsp. salt
1 cup milk
4 oz. (8 Tbs.) unsalted butter
3 large egg yolks
In a large bowl of an electric mixer, whisk together the flour, yeast, sugar, and salt. Put the bowl in the mixer stand and fit it with the dough hook.
In a small saucepan, heat the milk and butter, stirring until the butter melts and the liquid is very warm, between 115 and 125 F.
Dump the warm milk-butter mixture and the egg yolks into the flour and mix on medium-low speed until combined. Increase the speed to medium high and beat until the dough is smooth and shiny, about 8 min.
(If you don't have a stand mixer or electric mixer, you can make a well with the dry ingredients, gradually add the wet, and then knead the dough by hand until smooth and shiny.)
Remove the dough from the bowl, shape it into a neat ball, and then return it to the bowl. Lightly grease the sides of the bowl and cover the top securely with plastic. Let rise in a warm spot until doubled in size, about 45 min.
Lightly grease a 9x13-inch baking pan or dish. Turn the dough onto a clean work surface (no need to flour; the dough is soft but not sticky) and gently press to deflate. Using a dough cutter, divide the dough into 16 equal pieces, each about 2 oz. (use a scale to be sure).
Put a piece of dough in your palm (again, no flour). With the edge of your other palm (curved slightly), press gently but firmly on the dough, rotating it repeatedly until it forms a smooth-skinned ball with a sealed bottom. Put the ball in the pan, sealed side down, and repeat with the remaining dough.
Cover the pan with plastic and let the dough rise until almost doubled, about 30 min. Meanwhile, heat the oven to 375 F. Remove the plastic and bake the rolls until they're puffed and browned, about 20 min. Serve warm.
Copyright: Fine Cooking Magazine - order Fine Cooking or send a gift subscription!